ZipBy is on a mission to save you time!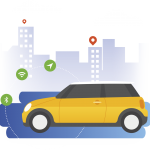 When we started developing our ZipBy contactless parking app, we knew we were on to a winner.
People hate wasting time, especially going into and coming out of parking locations. Whether you're racing between business appointments or picking-up the shopping, having to fiddle around with a paper ticket and sorting out your parking payment is just plain inconvenient. 
ZipBy is the smarter way to park. And it's safer for both drivers and pedestrians. No more winding down the window and taking your eye off the road to take your parking ticket. 
We call it 'Frictionless Parking'.
We developed the ZipBy touchless parking app to help smooth out your busy day. 
The ZipBy app works within parking locations powered by ZipBy. You'll see the ZipBy branding on the columns at the entrance of each location. 
You'll find ZipBy technology in universities, hospitals, shopping centres, airports and in commercial parking locations.
We hope you find that ZipBy makes life just a little easier!